Business Growth Ideas #313 This week: Year end, Best year, Idling

GREG'S BUSINESS GROWTH NEWSLETTER #313
————————————————————
Quick notes to help you grow your business in less time with less effort. . . sometime next week.
In this issue:
– Techniques for FIT
– Being Human
– Random Stuff
Techniques for FIT
——-
Linger on your many experiences from last year. Don't fret over time slipping away each time you remember to write "2022." You may not have accomplished everything on your list, but you experienced a lot. Let it soak in. Enjoy it.
When picturing your idealized year consider your discretionary time. Overworked and exhausted at year-end isn't a desirable future state. 
Management's goal is to produce behaviors that generate results. Your individual goals and results aren't different. Focus on your behaviors and the results will come.
Buy-in on vision isn't the sole reason your people build momentum, but it's the reason for some. Others like the value being provided to customers. Others buy into their co-workers enthusiasm. All the reasons start with clear vision.
Being Human – A best year ever
————————————————————
"Leap and the net will appear." – John Burroughs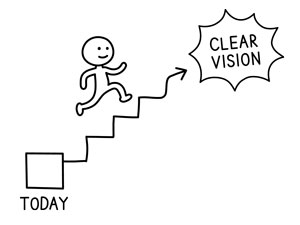 I work with a lot of salespeople and have done so for, well, for as long as I've been working. I was thrust into sales management right after blowing out my sales quota. (Based on that experience, I have a strong opinion on making top salesperson your next manager. Don't.) Anyway, since then, the new year brings out the same question, year after year, across all industries. One I was just asked.
How do I make this year my best year ever? 
Those of you familiar with my acronym FIT won't be surprised to learn it starts with a strong vision. I did a presentation on it if you have 4 minutes: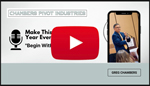 (and if you have 45 minutes to kill, you can listen to the whole Best Year Ever teleseminar at this link.)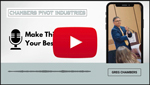 I hope 2022 is your best year ever!
Happy New Year!
Random stuff
————————————————————
"Television, the drug of the Nation
Breeding ignorance and feeding radiation."
– Diposable Heroes of Hiphoprisy
Being sick and sequestered in the year 2021 isn't terrible. My wife introduced me to a short story by Katherine Ann Potter, "Pale Horse, Pale Rider." It's about a newspaperwoman and a soldier during the influenza epidemic of 1918. No television or internet. No radio even, let alone advanced medicine. Much tougher time than I have it. (It's a recommended read.)
Today I can wander through the internet, download almost any book instantly, and watch hundreds of television channels. All while my body successfully fights a virus modern medicine trained it to recognize. Lots of entertainment for the gray matter. Good time to be alive.
I won't bore you with the details of my intake, but I have a few notes.
I missed it in my youth but the setup in Bruce Lee's "Enter the Dragon," is haphazard at best. Karate chop-em-ups are light on plot, but the "oh yeah, before you do this dangerous mission I should tell you about how your sister died," made me laugh out loud. I thought my family had communication issues. . .
Humans really do hate to lose things more than we like to get things. Finishing the Trader Joe's book, his pre-occupation with minimizing taxes gets almost comical. I walked away reminded of the old saw, "how much is enough? Double whatever you have."
Peter Jackson's "The Beatles – Get Back" is, um, long. Wow. It's fun to see the creative process unfurl, kind of. But maybe not knowing how the sausage is made is still best.
I appreciated John Madden but growing up in Denver in the 70's really soured my enjoyment of him. This human tribal thing goes deep. I still hate the Raiders logo, and my instant reaction to seeing John Madden is revulsion, followed by "oh yeah, he's ok now." No wonder Silicon Valley is eager to get all of us roped into to robot world.
I hope you have a Happy New Year! Thanks for reading, thanks for all the comments, all the advice, and all those well-wishes.
I appreciate it.
————————————————————
If you need to set up a time to visit, follow this link:
https://calendly.com/chamberspivot/
https://www.chamberspivot.com/wp-content/uploads/2022/03/CPI_logo_nowheel_transp_blk_sales_consultant_omaha.png
0
0
Greg Chambers
https://www.chamberspivot.com/wp-content/uploads/2022/03/CPI_logo_nowheel_transp_blk_sales_consultant_omaha.png
Greg Chambers
2022-01-01 16:39:00
2022-01-01 16:39:00
Business Growth Ideas #313 This week: Year end, Best year, Idling