Business Growth Newsletter #214 – Differences, Time to think, Watching me

GREG'S BUSINESS GROWTH NEWSLETTER #214
————————————————————
Quick notes to help you grow your business in less time with less effort. . . sometime next week.
In this issue:
– Techniques for FIT
– Being Human
– Random Stuff
Techniques for FIT
——-
Resist the urge to coach to middle of the bell curve where everything is nice and neat. The messiness in the corners is where brilliance hangs out. Go there.
Every dog is different. The nice Westminster Dog Show woman said there are 200 breeds and 3,000 entrants sharing one trait – they love to perform. Otherwise they're different and judged accordingly. Your people are different too, try not to lump them together.
Stop doing something if it hurts. Through a project I've been talking to people I worked with long ago, and they hate their work environment. They hated it 20 years ago. It's ok to stop.
Process is helpful but unless it's flexible enough to let the user inject their strengths, it won't get done. Let your people use their perceived strengths to do it "their way."
Being Human – Finding time to think
————————————————————
"John Von Neuman enjoyed thinking. I have come to suspect, to most people thinking is painful. . . Johnny enjoyed it. I even have suspicion, that he enjoyed practically nothing else. This explains a lot. Because what you like, you do well. And he liked thinking. . ." – Edward Teller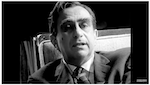 I love the above quote from a story physicist Edward Teller talking about mathematician John Von Neuman because it rings true. When we like to do something, we learn to do it well. The interesting thing is Teller isn't saying he loved mathematics, he loved applying mathematical thinking.
(https://www.youtube.com/watch?v=Oh31I1F2vds)
In other words, when he was able to use his self-identified individual strengths to his work, he excelled.
We would do well to do the same.
Random stuff
————————————————————
"Well, I really always wanted to be quite famous, but I don't want to be on your cameras, I don't want to be on your video cameras Mr. Policeman." Billy Bragg, live bootleg of "Great Leap Forward"
Most days Wilson the Amazing Border Collie and I head out for a stroll. Depending on our time limits we have four regular walk routes ranging from 20 to 60 minutes long. I don't take my phone with me on most walks and each time I leave it behind I get panicked. It's crazy how this little device has infiltrated my life, from the need to be constantly available, to the illusion of effective communication, to the phantom ring vibrations I feel in my pants at all hours, it's always there.
Take these dog walks, for instance. When I leave the house I think, "What happens if I get jumped and hit my head? Or what if I'm struck by a random bit of space junk re-entering the atmosphere? Who will tell my people where to find the corpse?"
Doorbell surveillance to the rescue! My across the street neighbor installed a Ring doorbell. It has a motion detector range of 30-feet, so if I head straight over to her gutter and Wilson wanders up a few feet closer, I've left a clue for the workaholic detective with an uncanny intuition for breaking murder cases wide open a place to start.
Our routes start to the south. On the 20 houses we pass before hitting the corner, I count seven surveillance devices. On the rest of our two-mile route, it seems like Wilson and I trigger a disturbingly large number of devices. I see the doorbells, found a few garage door floodlights with cameras, and even saw one of those bubble cameras the bank uses on one house. Dang. It's not even like we live in a crimey area.
The upside is there's a better than average chance you'll see footage of my untimely demise. I'm thinking there's a chance it makes it into one of those Ring commercials.
————————————————————
If you need to set up a time to visit, follow this link:
https://calendly.com/chamberspivot/
https://www.chamberspivot.com/wp-content/uploads/2022/03/CPI_logo_nowheel_transp_blk_sales_consultant_omaha.png
0
0
Greg Chambers
https://www.chamberspivot.com/wp-content/uploads/2022/03/CPI_logo_nowheel_transp_blk_sales_consultant_omaha.png
Greg Chambers
2020-02-15 20:35:00
2020-04-14 10:46:07
Business Growth Newsletter #214 – Differences, Time to think, Watching me