Right FIT Newsletter #177 – Being Human, Training and a Packers Game, Bathrooms

GREG'S RIGHT FIT NEWSLETTER #177
————————————————————
Quick notes to help you get more sales and marketing done in less time. . . next week.
In this issue:
– Techniques for FIT
– Being Human
– Random Stuff

Techniques for FIT
——-
Greg's advice is to be rigid in your vision. However, you have my permission to waver on the particulars for how your people get there.
A fast way to making a good decision is to start with the desired result. Along the way you'll consider your must-haves and nice-to-haves, but if you do it without a desired result in mind, it's hard to make the call along the way. Help your people by communicating your firm's desired result.
I say that I help businesses execute in a humanistic way. Humanistic in the sense we recognize complexity and know we have to pivot on occasion. Humans are flawed, and that's ok. Especially if we keep our eyes on the prize and continue navigating/trying new strategies to get there.
Now is the time of year to get human with me. Get something started and be better off for it this time next year. To make reasonable progress is a reasonable timeframe we have to be motivated just enough to get started.
Being Human – Without the R, there won't be an I
————————————————————
"The basics of communication do not change. Conversely, new words are added to the dictionary every day, so language changes constantly."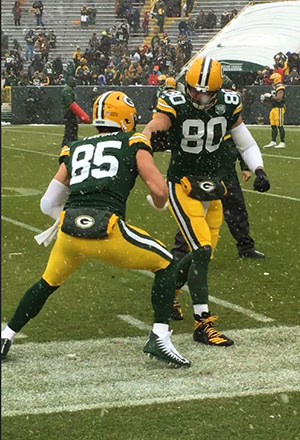 When your prospect is reviewing your proposal, how many financial numbers are in it? Let me restate that, how many financial numbers are in it that the prospect came up with and believes in?
In the proposals I review, the only number the prospect sees is on the last page, and it's the investment they need to budget for. There isn't a number attached to solving the problem or a number on achieving the benefit. That forces the client to guess at the return in ROI, at best. How do we fix this?
Step 1 in the fix starts by knowing every business measures something, so there have to be meaningful plan-to-actual reports and key performance indicators floating around that will be altered by the work you're proposing. Find them.
Step 2 is helping your clients use this measure to calculate where they are today and where they think want to be after working with you. The Return in ROI is going to be the value of the difference between those two numbers.
Helping a client calculate ROI sounds simple, but it's not easy to get. Especially when you only have 20 minutes in a client's office. Tougher still, is even if you do uncover meaningful measures, they are rarely neat and tidy.
What do you do if it's not a financial measure?
What do you do if it's a soft measure, like engagement?
What do you do when they don't have the measure on hand?
What do you do if the measure is too small?
What do you do if the measure too big?
What do you do if the measure doesn't exist?
The answers to these questions and more are addressed in my fall workshop, September 25th/26th. It will be held in fabulous Milwaukee, WI and the focus is on "Opportunity Development." It's a day-and-a-half deep dive into the tools you need to help clients develop a clear idea of the Return they get when investing in you. An ROI they can support, defend, and believe in. Opportunity Development is the best way I know for speeding up business development cycles and improving close rates.
The fee for this day-and-a-half event is $2900. In addition to the content, the networking, and getting out of the office for a few days, the price includes a wonderful hotel for 2 nights, breakfasts, lunches, and a cocktail party. You just need to get there.
For $400 more, you can join me on afternoon two for a quick bus ride up to Green Bay to watch the Packers vs. Eagles on NFL Thursday Night Football. This add-on includes the bus ride, a ticket to the game, a tailgate at the world-famous Hinterland Brewery, and a special treat. (plus the late bus ride back to Milwaukee and a 3rd night in the hotel)
You'll learn a ton about opportunity recognition and development, interact with partner-level-peers growing their professional services practices, and walk out with a new opportunity-action-plan together for the rest of 2019. (No guarantees you remember everything after the unbridled joy of Lambeau Field. Just sayin'.)
Ping me for details. Due to Packer game demand, space is limited. (I'll tell you about a special early-bird-signup-offer too.)
Random Stuff
————————————————————
Guiding principles
(image via @frolickauai)
We all have a set of guiding principles. Some grand in scope and others are very specific to daily living, such as "I try to acknowledge everyone as a fellow human," or "I always tip 20% no matter what." Those aren't mine, they're just examples. Mine tend toward the specific and I'm going to share one with you.
Bathrooms
I believe that no matter how you found the bathroom when you enter it, you'll be blamed for everything the next person experiences. This thought compels me to do a little tidying up before I leave the bathroom. A wipe here, an extra flush there, or a wave of the hands after washing. I'll do whatever I can to make the lavatory just a little nicer for the next user. I can say I do this to be nice, but deep down I'm driven by a paranoia I'll be blamed for someone else's sins.
I share this because two weeks ago my youngest moved back home from college. So, it's on my mind. A lot.
That's all I'm saying.
————————————————————
If you need to set up a time to visit, follow this link:
https://calendly.com/chamberspivot/
https://www.chamberspivot.com/wp-content/uploads/2022/03/CPI_logo_nowheel_transp_blk_sales_consultant_omaha.png
0
0
Greg Chambers
https://www.chamberspivot.com/wp-content/uploads/2022/03/CPI_logo_nowheel_transp_blk_sales_consultant_omaha.png
Greg Chambers
2019-06-01 22:03:21
2019-06-01 22:03:22
Right FIT Newsletter #177 – Being Human, Training and a Packers Game, Bathrooms