Lessons Learned From Year 6 – Greg Chambers Annual Consulting Update

Lessons Learned From Year 6
————————————————————
I usually send this note in October, on the rough anniversary of launching Chambers Pivot Industries, LLC, but for 2018 we'll sneak it in with a day to spare. This is edition 6 (which is something like 72 in Greg-job-years). Each year I note 2 or 3 big lessons from the year, and make a few announcements.
Let's light this candle.

Year Seis
————————————————————
Year 6, Lesson 1 ​​​​​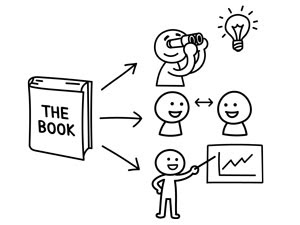 From day one, I was told that writing a book about my ideas is the easiest way to grow a consulting business. It's true. The exercise of brainstorming, researching, describing, and discarding ideas through an editorial team helps distill an idea to its core. That, in turn, makes it easier to communicate and teach. And better communication leads to growth. Want to be better at what you do? Write about it in long form and share it with others.
Year 6, Lesson 2 ​​​​​​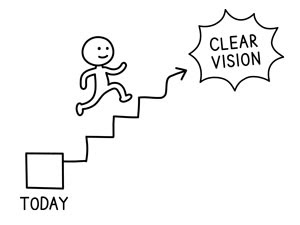 It's a challenge to stick to our visions/goals. One reason for this is because we get distracted by nearby people/organizations. When we take our eyes of the destination and consider what others are pursuing, it stalls momentum. This loss of momentum creates extra work for us to get back on track, and you all know how I feel about extra work! The clearer your vision, the less effort it takes to stay on the path because momentum builds and, over time, flattens obstacles in our way. A clear vision makes it's easy to ignore your neighbor. And to paraphrase John Candy, they don't know where you're going anyway.
Year 6, Lesson 3


Nothing beats face to face communication . . . except face to face communication with something to scribble on. Our ancients used glyphs long before the spread of the written word. Drawings overcome language barriers, shorten problem solving, and improve your memory. Last lesson: the legend of big ideas starting on cocktail napkins holds truth. Keep scribbling.
Good stuff.
Recap
————————————————————
Things I did in year 6:
I launched a new company/service with Bill Mattern, my friend from GoLeads/US Farm Data. It's a lead generation service mixing Bill's lead generation products, customers, and staff together with my sales-lead-generation ideas and experiences. The result: LeadGen Compass, a wondrously effective, incredibly cost-efficient way to boost your internal B2B lead generation efforts. I'm sharing it with clients and friends, and later this year we'll open it to the general public. Learn more at leadgencompass.com.
I released a commercially published book (see lesson 1 above), "The Human Being's Guide to Business Growth: A Simple Process for Unleashing the Power of Your People for Growth."It's the best way I know to jump start growth because if anyone in your company can lose a customer, anyone in your company can win one too. If you want a copy, send a note or use this link and I'll send one. It's full of practical ideas and instruction that firms are having success with right now.
Finally, I finished another 52 editions of the Right FIT Newsletter, my weekly note with ideas on how to get more done in less time. . .next week. Subscribe to the next 52 here. I recorded around 20 teleseminars/webinars, wrote a few articles, did a couple podcasts, and was quoted here and there. Plus, I did an online course based on my book Selling With Strengths. All designed to help you sell more in less time with less effort. Good stuff.
Next year
————————————————————
Look for the Lead Generation Workshop. A two day workshop with 1 1/2 days for in-house company marketers and a 1/2 day for consultants and freelancers. Attendees will walk away with actionable plans to generate more leads (or offering the process as a service). We're aiming to hold it someplace warm.
I'll be writing a new book (or two). One on expanding into new markets, and maybe one on starting a career in sales because the middle child is going down that path and I have a lot to say about it.
Look for my Right FIT Bits on social media.
Last, I plan on hitting the road more in 2019. If you're in my nearby cities (Denver, Minneapolis, Chicago, KC, St. Louis, etc.) I may call to visit. You've been warned.
Finally, a big thanks to everyone I've shared ideas and worked with this year! It's been an honor. 
It's a challenge to contribute more than I take away from our interactions, but I'm trying. . .
Happy New Year,
Greg
Other resources
Past editions of my annual update:
Year 1 – Greg Chambers updates you after 1 year of consulting
Year 2 – Greg Chambers updates you after 2 years of consulting
Year 3 – Greg Chambers updates you after 3 years of consulting
Year 4 – Greg Chambers updates you after 4 years of consulting
Year 5 – Greg Chambers updates you after 5 years of consulting
Free Teleseminars (we're up to 16):
Right FIT Sales and Marketing Teleseminars
Lead Gen Webinar Series (with LeadGen Compass):
Topics include Facebook, LinkedIn, List Buying and 7 more
My Online FIT Assessment (anonymous and free):
FIT Assessment
https://www.chamberspivot.com/wp-content/uploads/2022/03/CPI_logo_nowheel_transp_blk_sales_consultant_omaha.png
0
0
Greg Chambers
https://www.chamberspivot.com/wp-content/uploads/2022/03/CPI_logo_nowheel_transp_blk_sales_consultant_omaha.png
Greg Chambers
2018-12-31 13:17:50
2018-12-31 13:17:50
Lessons Learned From Year 6 – Greg Chambers Annual Consulting Update