Business Growth Ideas #289 This week: Pain/Gain, Motivation, Re-entry

GREG'S BUSINESS GROWTH NEWSLETTER #289
————————————————————
Quick notes to help you grow your business in less time with less effort. . . sometime next week.
In this issue:
– Techniques for FIT
– Being Human
– Random Stuff
Techniques for FIT
——-
Once out of survival mode, desire for autonomy is bigger than a desire to avoid pain. Your prospects aren't as interested in what they may be doing wrong as they are in hearing about what they may be missing. Sell ideas.
Gains from measurement come from simple, repetitive tasks. The more complex the task, the less you gain from attempting to quantify multidimensional work. 
Recognizing one success story is recognizing one success story. Every success story is different in its own way. Your way to the promised land is not the same as mine.
Our company cultures are built on the behaviors of our people. When working on company strategy focusing on the gap between actual and desired behaviors is fundamental.
Being Human – Don't stop believin'
————————————————————
""Things turn out best for those who make the best of the way things turn out." – John Wooden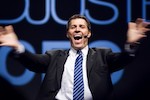 A favorite Jim Rohn quote is "Motivation alone is not enough. If you have an idiot, and you motivate him, now you have a motivated idiot." I imagine a coach giving a halftime speech, the players jumping up, and charging right into a wall.
I think about this when executives default to motivation as a solution to reaching goals. I experienced it myself as a struggling sales rep on a struggling team being pulled into a conference room for a pep talk by the Sr. VP of Something. It didn't work then, and it doesn't work now. Motivation must be internal and your people have enough of it already. They're smart, they get themselves out of bed, get dressed, and show up on time.
Instead of motivation, focus on removing obstacles keeping your team from building momentum. Momentum is the holy grail of goal achieving because it keeps little obstacles from snowballing into bigger problems.
Obstacles to building momentum are going to come in three flavors: job structure, objective mismatches, and internal conflicts. The former are the easiest to address, the latter the hardest.
No wonder we turn to motivation!
Start by asking about obstacles in the workplace, the job structure challenges. Start building momentum by removing the smallest job related obstacles next week. An aging PC, a slow internet connection, automating a report, etc. It's not as much fun as giving a halftime speech, but it works. Momentum leads to greater internal motivation.
Random stuff
————————————————————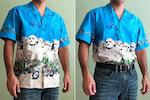 As I enter the summer social scene, a year off of in-person interaction is leading to some re-orientation. The most mundane activities are forcing me to pause, and re-establish old patterns.
For instance, my sister suffered a tussle with the shingles which reminded me to schedule my second shingles shot. I haven't been avoiding it for any particular reason, so her illness became the bump I needed to cross it off my list.
The day of the shot I am wearing a fancy Zoom shirt. Whole Zoom outfit really. I have a long sleeve button down on top, shorts on the bottom, and slippers. I run calls from 7am to 10am and my shot is at 10:15. The long sleeve shirt won't work for a shot, everyone knows that, so I run up to change into a short-sleeve polo shirt.
The long sleeve shirt was tucked in, but do I need to tuck in the polo shirt? I don't think I'll see anyone at the pharmacy, but I don't want to be seen as a slob. Plus, I think I need to bring a mask. We just returned from a trip and my mask is a little funky. I should wash it but again, I probably won't see anyone I know.
I decide to go un-tucked. The pharmacy is staffed by young women and one of them pulls the short straw for sticking me with the vaccine. While she preps I wander the aisles looking at compressions socks (will I need those?), lift chairs (I kind of want one), and I study the new packaging on a product I advised the owner of. (a big IS NOT MADE OF NATURAL LATEX on the front, but no indication of what it IS made of. . . well, that's not what I suggested. . .)
The young pharmacist is ready for me, we pick the left arm, and take the plunge. Done and done. Nothing to it really.
I go home and chat with a neighbor while moving trash cans to the back-yard. I jump on a quick call about trade-shows, send some emails, and it's around this time my morning liquid intake sends me to the bathroom.
I take a quick look at myself in the mirror and there it is. My fly is wide open. Probably for hours now. Not sure how I missed that.
Like I said, I need to re-learn some things.
————————————————————
If you need to set up a time to visit, follow this link:
https://calendly.com/chamberspivot/
https://www.chamberspivot.com/wp-content/uploads/2022/03/CPI_logo_nowheel_transp_blk_sales_consultant_omaha.png
0
0
Greg Chambers
https://www.chamberspivot.com/wp-content/uploads/2022/03/CPI_logo_nowheel_transp_blk_sales_consultant_omaha.png
Greg Chambers
2021-07-16 15:38:00
2021-07-16 15:38:00
Business Growth Ideas #289 This week: Pain/Gain, Motivation, Re-entry