Business Growth Newsletter #197 – Get it done, Decision making, Barber shops

GREG'S BUSINESS GROWTH NEWSLETTER #197
————————————————————
Quick notes to help you grow your business in less time with less effort. . . sometime next week.
In this issue:
– Techniques for FIT
– Being Human
– Random Stuff
Techniques for FIT
——-
Starting a thing is the best way to get it done. There's something about a task we've started but left undone that stays with us. Writers do it all the time, it works.
Selfishness helps your people get things done too. If it's a task beneficial to them it's more likely to get done than tasks benefitting others. Hot-tip: make it about them.
My favorite time of day to write is early, early. My favorite time for dreaded phone calls is between 9-11am. My favorite disco nap time is 3:30pm. Know your people's energy levels and schedule things accordingly.
Every Friday, before checking out for the weekend, have your people make their personal Monday morning to-do lists. Like the first technique above, writing a task done makes is super easy to get a jump on the week before it's derailed.
Being Human – Which way should we go?
————————————————————
"Experience was of no ethical value. It was merely the name we gave to our mistakes." ―Oscar Wilde
Should you hire another sales person or improve your current sales process by bringing in an administrator or software solution? I have this discussion daily with a project. I look at what the future new sales people will be doing and think "we're still in need of a process" and the owner looks at future new sales people and sees incremental revenue at a reasonable cost.
We share the vision – but we don't agree on how to get there. I lean more toward scaling, adding little cost for the revenue via process. He leans more toward linear growth, good people will figure out how to add value to the firm.
We're both right. The missing element in our discussion is time.
My approach will keep revenue's flat while causing spikier peaks in cost as we search for the process. Ideally causing a bump in future revenue. It may take 6 months to a year. His approach will provide spikier revenues with a flat addition to costs as we search for someone with the talent to cause the permanent bump in revenue.
How do we decide which approach is best?
We follow a sequence for making a good decision borrowed and simplified from 60's corporate management books. Must haves, nice to haves, and risk assessment, in that order.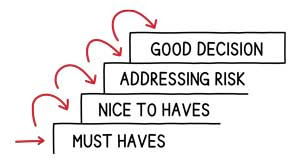 The nature of musts demands that there are very few of them. If everything' important, nothing is. What is a necessity? Nice to haves are all the rest. For instance, since this business will eventually be sold, the only must is that revenue is predictable for the next owner. The more predictable the revenue, the higher the multiple. Nice to have's are everything else – the revenue today, the added buzz in the office, being able to say you're growing fast. . . those are only nice-to-have's in this case.
The interesting part is the risk assessment. Everyone has their own risk tolerance. Banks are on one side, movie producers are on the other side when it comes to risk. In this case, my friend is conservative, more like a bank than a movie producer. Plus, one of the riskier outcomes of growth without a process is it involves hiring and firing a few people. He doesn't want to do that to anyone – he wants everyone to succeed.
We decide to continue working on process. If the musts were different, or if the nice to have's were different, or if his risk tolerance were different we may have ended up in a different place.
I have another client who wants to grow just as urgently, but their long term vision isn't a sale, it's a firm that gets passed down through a partnership model. They're eventually selling to their own internal superstars. In addition, the principal has a high tolerance for risk and wants to be surrounded by aggressive people. With that in mind, we are taking a different tact and adding new team members to sink-or-swim right now. We'll focus on process once growth is in the building.
It's all good stuff.
As you grow your business and you need your people to make decisions, teach them to first align decisions with your firm's future vision – then consider must haves, nice to haves, and your firm's risk profile. Better decisions make dreams come true faster. Swear.
Random Stuff
————————————————————
"Good time for a change. . ." – the Smiths
When I was a young boy I loved trips to the barber shop. Five chairs backed by a mirrored wall, striped capes covering all but the customer's head, a single bench along the opposite wall, various sport/news/girlie magazines in stacks. There was a sixth chair, but it was in a semi-private back room which held no appeal for me. The barbers were all characters with smudgy militaryish tattoos on arms poking out from blue smocks. I remember one having a greased pompadeu haircut and a gold front tooth which made him look menacing, but most had some form of Tony Orlando's hair – middle part, feathered, just long enough in back to fall over your big-shirt-collar. On Saturday mornings the line was long, the banter was coarse, and all I wanted was to get a chop from Daniel, the friendliest looking barber with the big curly hair.
It hardly ever happened. Since it was first come, first serve and Daniel was so popular, I put my name on the list but most of the time one of the other hacks chairs would open and my old man would push me forward because time was a wastin'!
I'm thinking about the Village Square Barber (in a strip mall by a flea market as you might guess) because my current hairdresser is about to give birth and it's a convenient time for me to start looking for a new haircutter person. I may even wander around and find something close to my old haunt.
Then I see this:

Based on the Village Square Barber Shop haircuts of my youth, I may be better off waiting for maternity leave to end.
————————————————————
If you need to set up a time to visit, follow this link:
https://calendly.com/chamberspivot/
https://www.chamberspivot.com/wp-content/uploads/2022/03/CPI_logo_nowheel_transp_blk_sales_consultant_omaha.png
0
0
Greg Chambers
https://www.chamberspivot.com/wp-content/uploads/2022/03/CPI_logo_nowheel_transp_blk_sales_consultant_omaha.png
Greg Chambers
2019-10-19 10:16:28
2019-11-17 16:49:45
Business Growth Newsletter #197 – Get it done, Decision making, Barber shops