Newsletter #2 – Progress, Self-Talk, Pictures, Wilson
GREG'S RIGHT FIT NEWSLETTER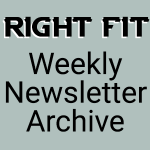 Quick notes to help you get more done in less time. . . next week.
Welcome to the first edition of my weekly, week-end primer. In anticipation of my upcoming book, The Human Being's Guide to Business Growth, this newsletter has concise advice you can put it use. . .next week, after it has a chance to sit in your brain over the weekend. Enjoy!
(get the newsletter here: https://www.chamberspivot.com/right-fit-newsletter/)
This primer has three sections to help you get more done, your way:
– Techniques for FIT
– Being Human
– Random Stuff
Techniques for FIT
Tell yourself, "I'm looking for measurable progress in a reasonable amount of time" from the outset of any growth endeavor. Growth is a process, not a destination.
Practice self-talk that puts your brain to work. Questions like, "How will I. . .?" and "What do I need to do next. . .?" will put your gray matter to work while you get on with your day.
Continuing with language, match your language to your customer's stage in their decision process. Early stage language sounds like, "How do I do . . .?" and late stage decision language sounds like, "am I getting the best deal. . .?"
Develop and own your analogies. When you communicate them to clients, they will automatically think, "What is this like? Where have I seen this before."
Being Human – "I never look good in pictures!"
A client was stuck in the middle of a massive website redesign project. An aggressive attempt to re-brand the organization and bring it into the 21st century.
"Greg, will you help us get this thing back on track?" they asked.
Absolutely, I responded. Where are we stuck?
No one can agree on what we should do
The branding agency doesn't listen
The text could be bigger and the graphics a little sharper.
I hate my picture. It's so serious.
I like the logo and the tagline.
That team page needs work. They chose the worst picture of me.
Get rid of the slideshow.
I like my picture, but the site is hard to navigate.
Got it.
I went to the branding agency. Which pages have had the most comments.
Home page
About US page
 . . .
Wait, go back to that. The About Us page is the second most commented on?
Yes. We have had a professional photographer in there three times already.
Let's do this, you took multiple pictures of each one of them, right? Go back to each person and let them choose their favorite picture of themselves.
The said, "But it won't be uniform."
I said, "Just try it."
A week later I asked how progress was coming along.
"They just signed off on the site. I think we're good to go. What did you do?"
No one ever thinks they look good in pictures.
Random Stuff
Why is the dog freaking out?
Wilson the Amazing Border Collie (ABC) and I were digging through the hat and glove basket in preparation for a stroll in the wicked cold when I found a little mouse shaped laser pointer. I pressed the button and Wilson went nuts.
We chased the red light up the stairs. We chased it down the stairs. Up and down the walls and up to the ceiling where all we could do was bark and howl at the intense little red intruder.
All fun and good and I tossed the pointer back into the basket.
Fast forward to last week. We're sitting at the dinner table enjoying a rare visit with the entire Chambers clan when Wilson starts freaking out at something on the ceiling.
My son says, "Oh, man. When I visited my roommate, their dogs do that. They used to play with those laser pointer things and now the dogs just sit there and look at the ceiling." I notice that an accent light is reflecting off my wife's watch, up on to the ceiling. Right where Wilson is focusing his intensity.
They all turn to look at me.
"What?"
https://www.chamberspivot.com/wp-content/uploads/2022/03/CPI_logo_nowheel_transp_blk_sales_consultant_omaha.png
0
0
Greg Chambers
https://www.chamberspivot.com/wp-content/uploads/2022/03/CPI_logo_nowheel_transp_blk_sales_consultant_omaha.png
Greg Chambers
2016-03-03 08:40:40
2017-11-20 01:00:50
Newsletter #2 – Progress, Self-Talk, Pictures, Wilson