Newsletter #70 – Frustration, Sales or Marketing? Updates

GREG'S RIGHT FIT NEWSLETTER #70
————————————————————
Quick notes to help you get more done in less time. . . next week.
In this issue:
– Techniques for FIT
– Being Human
– Random Stuff

Techniques for FIT
————————————————————
Exercise. Studies show that strenuous activity dissipates stress. Get busy doing something.
Meditate. Mull over the source of frustration. Do a deep think about it. Maybe combine a walk with mediation and get your exercise and deep thinking done at once.
Ignore. Much of our frustration is self-inflicted as a result of our perceptions. Push it away. As 8th grade Paul Bonomo said to our teacher, "Don worry 'bout it!"
Confront. If the source of frustration violates your principles, confront it. If it's simply a question of preferred taste or style, let it go. Keep your powder dry for the big stuff.
Being Human – Sales or marketing
————————————————————
Marketing or Sales? What should we focus on?
If you have this question, this is a shortcut for you. I just finished Michael Lewis' book The Undoing Project on the collaboration between Nobel Prize winners Daniel Kahneman and Amos Tversky. They would call this a heuristic: a simple, efficient rule to form judgements. (The book is a great read–as always, Lewis can tell a story)
Use this graphic (inspired by Mark Leslie at Stanford) as a guide on what to focus on: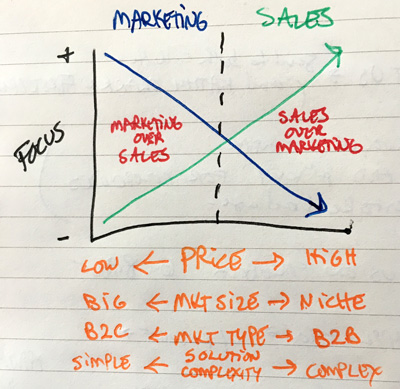 The degree of focus is on the Y axis, and the X axis has four considerations.
Price: The higher the price of your product or service, the more you'll focus on sales over marketing.
Market Size: The bigger the market you're trying to reach, the more you'll focus on marketing over sales.
Market Type: Business to business requires more focus on sales, business to consumer requires more focus on marketing.
Solution Complexity: The more complex your solution, the more you'll focus on sales over marketing.
Simple, efficient rules.
How did your company score? What should you prioritize?
Random Stuff
————————————————————
I hope you received the update your profile/subscribe/unsubscribe from me. I am moving these lists to a new service because I want to train a robot to reduce my work load.
Don't worry, no one is losing a job a Chambers Pivot because of AI or machine learning.
(But the robots are coming. Be ready.)
Booking Calendar
————————————————————
If you need to set up a time to visit, follow this link:
https://calendly.com/chamberspivot/
https://www.chamberspivot.com/wp-content/uploads/2022/03/CPI_logo_nowheel_transp_blk_sales_consultant_omaha.png
0
0
Greg Chambers
https://www.chamberspivot.com/wp-content/uploads/2022/03/CPI_logo_nowheel_transp_blk_sales_consultant_omaha.png
Greg Chambers
2017-05-12 15:45:30
2017-11-24 15:22:56
Newsletter #70 – Frustration, Sales or Marketing? Updates