One Million Software Companies by 2027
One Million Software Companies by 2027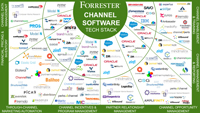 I've been thinking about this quote from Jay McBain at Forrester, "I estimate there are more than 100,000 software companies (ISVs) today around the world — up from 10,000 only 10 years ago. I wouldn't be surprised. . . to see that number grow to 1 million by 2027."
Today, in the sales and marketing space there are an estimated 5,000 software companies. In 10 years that number could be 50,000? 50,000 companies that understand sales and marketing, selling and marketing.
Think about it. 50,000 companies emailing you about their solution. 50,000 companies calling you with ideas about how to improve your outcomes. 50,000 companies competing for your sales and marketing dollar. Assuming each of those companies have five sales people on staff, that's the population of Akron, Ohio fighting to get your attention and sell you a solution, every day in 2027. 
It's going to be a lot of information and ideas to sort through. How will know which company to trust? What software to invest in? How will you recognize the one that will reduce your labor intensity, double results, and transform your business?
Make selling everyone's business
I've been working with companies on this exact problem and I have this advice: before investing a single dollar in sales and marketing technology, maximize your current assets and make selling everyone's business.
This does two things for you.
First, it's no secret that a no matter how effective a best practice is, if your people don't implement it, nothing happens. The perfect technology for your industry may not be the perfect technology for your company if your people don't use it. Understand your unique strengths, size, and disposition before investing in technology.
Second, when your people apply their self-identified strengths to activities, especially activities they find intimidating or distasteful, they're happier with their jobs. Engagement at work is at an all time low and the only way to improve it is to let your people be human and feel like they can put their strengths to work in your company, especially in sales.
There's never been a better time to unleash the power of your people for growth. Get your company ready for the many, many marketing technology advances to come from the demands of hyper-specialization. Otherwise, like so many of the companies I talk to, you'll waste a fortune in dollars, personnel, and time trying to implement a solution that doesn't work. Like the time my roommate and I invested in a SoloFlex. While we both wanted the SoloFlex body, neither one of us were willing to use the damn thing to get it.
If you're looking for some ideas on how to get started, pick up a copy of my latest book, The Human Being's Guide to Business Growth: A Simple Process for Unleashing the Power of Your People for Growth. Get it here.
Good stuff.
https://www.chamberspivot.com/wp-content/uploads/2022/03/CPI_logo_nowheel_transp_blk_sales_consultant_omaha.png
0
0
Greg Chambers
https://www.chamberspivot.com/wp-content/uploads/2022/03/CPI_logo_nowheel_transp_blk_sales_consultant_omaha.png
Greg Chambers
2018-01-22 11:24:37
2018-01-22 11:24:37
One Million Software Companies by 2027