Newsletter #102 – Business Growth, a Compass, the Beach

GREG'S RIGHT FIT NEWSLETTER #102
————————————————————
Quick notes to help you get more done in less time. . . next week.
In this issue:
– Techniques for FIT
– Being Human
– Random Stuff

Techniques for FIT
————————————————————
I heard it said, "If you're not growing, you're in a slow motion liquidation." That's a good reason to dwell on growth, just tell them you're avoiding death.
If you need other reasons to grow, growth attracts talent, gives your company strategic options, and generates the funds needed to pursue new opportunities.
When you consider your list of growth tactics, start with leveling up your team. Getting everyone to take responsibility for clients can lead to an impressive number of new opportunities.
In this case, leveling up can start with metrics like this: (returning customers + (leads x conversion = new customers) = total customers) x retention x average transaction x # of transactions. Inch them all up a tick before trying someone's new thing.
Being Human – The 5th point on the compass
————————————————————
What is it now?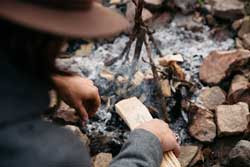 "A compass has four points," says the old scout, looking to the sky. "But the most important point on the compass is the fifth point."
I stop poking around the fire pit and look up at his craggy features. Fifth point?
"Where you are right now. That's the most important point."
Growth starts by figuring out where you are now.
– What is it now?
– What do you want it to be?
– What's the value of the difference?
– How does it impact results over time?
Trust that old scout.
The FIT Manifesto
FIT has four core values:
Bringing passion to the work over having passion for the work.
Activity you can live with over establishing best practices.
In-person serendipity over remote communication.
Focusing on the destination over the vehicle that gets you there.
While there is value in the positions at the end of each item, there is more value on the positions at the front of each item.
Those are my intentions.
Random Stuff
————————————————————
The beach
When the weather turns cold I think about sunnier climates. One of the perks of running a tropical shirt company is that we had trade shows in Florida and Las Vegas in the dead of winter. That let my land locked soul enjoy mile long walks from the hotel to the convention center, grabbing a little sunshine before parking my body in the cavernous buildings where we exhibited. Day after day of standing between my little tiki bar and racks of brightly colored shirts.
After a couple of years of this routine it occurs to me that even though traveling to Florida means the beach less than an hour away from my hotel, I wasn't actually going to the beach. I mean, an hour is as much time it takes to drive from Omaha to Lincoln but instead of visitng the Museum of American Speed, I could be ankle deep in ocean surf.
I made up my mind to leave my booth early, hop into my rental car and get me some sand action. Although I have a nagging feeling that my best account ever will show up as soon as I leave, I stick to my plan, aiming my ride at the iconic Ron Jon Surf Shop in Cocoa Beach. As I drive toward the destination I see ominous looking clouds building up on the horizon and when I pull into Cocoa Beach the skies open up. Big, angry rain that my poor little rental car's windshield wipers can't keep up with. I pull into a parking lot and wait. I can't see a thing.
After 20 minutes the inside of my car is at 90% humidity and I'm feeling like an idiot. The rain dies down a little, so I edge myself back on to the highway and head back to Orlando. Once I get 20 miles out of town, there isn't a cloud in the sky.
I get back to the convention center and join the festivities at the hotel bar, recanting my story to a Quicksilver rep.
"You didn't wait?" he says. I shake my head no.
"Dude, it always rains between 2 and 4."
"Ah. I didn't know that," I say while taking a sip of my beer. We stand there for a minute surveying the crowd for buyers. "Ever been to a Husker game?"
Booking Calendar
————————————————————
If you need to set up a time to visit, follow this link:
https://calendly.com/chamberspivot/
https://www.chamberspivot.com/wp-content/uploads/2022/03/CPI_logo_nowheel_transp_blk_sales_consultant_omaha.png
0
0
Greg Chambers
https://www.chamberspivot.com/wp-content/uploads/2022/03/CPI_logo_nowheel_transp_blk_sales_consultant_omaha.png
Greg Chambers
2017-12-22 13:21:48
2018-02-07 13:29:24
Newsletter #102 – Business Growth, a Compass, the Beach