Sunk Costs and Strategies
Sunk Costs and Strategies
A recent article in the Omaha World Herald highlighted a debate in the state legislature about whether or not the progress  on the University of Nebraska Lincoln's Technology Innovation Campus is meeting expectations.
"Some question Nebraska Innovation Campus' pace, funding requests, private-sector buy-in"
A quote in the article sounds like it was ripped out of the Guide to Decision Traps. Specifically, the Sunk Cost trap. Read for yourself:
"In the meantime (State Senator) Mello said, lawmakers and the university need to decide what success should look like for Innovation Campus, how much that success could cost the state and how the Legislature can increase its chances of success.
'This is not something the state can just walk away from,' he said." (emphasis mine)
Whether or not this project is something that continues to deserve funding is a discussion for another time. The framing of the sunk cost argument and its role in Strategic planning is what I want to comment on.
What has happened, will happen
Anytime you're working on strategic planning initiatives, you're doing as the Senator suggests: defining success. At the same time you envision the future, you need to make two more planning considerations. What is going to happen if we're too high or low compared to expectations? And what are some measures we can put in place if we miss those expectations?
Then we communicate the strategy.
I did a presentation that touched on this same concept but used the example of investing in new marketing. The plan follows a predictable pattern: before you start, think through what success looks like and then consider where the "minimum acceptable standard" is going to be. The key is to do it prior to engagement and communicate your standard up front. It keeps you from falling into the Sunk Cost decision trap.
You can page through the presentation here:
It's possible that before starting the project, the University created a clear picture of success. It's also possible that they created plans for what would happen if they missed projections.
It just doesn't sound like they communicated it to the legislature.
Good stuff.
Greg Chambers is Chambers Pivot Industries. Learn more about designing sales & marketing tactics that fit on Twitter and LinkedIn.
---
</div class=alert">
OR Get a Copy of AMALGAMATE Mailed to You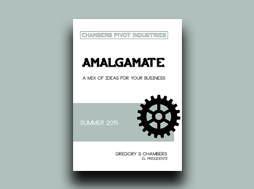 A MIX OF IDEAS IN A BOOKLET
https://www.chamberspivot.com/wp-content/uploads/2022/03/CPI_logo_nowheel_transp_blk_sales_consultant_omaha.png
0
0
Greg Chambers
https://www.chamberspivot.com/wp-content/uploads/2022/03/CPI_logo_nowheel_transp_blk_sales_consultant_omaha.png
Greg Chambers
2015-05-04 19:51:36
2017-11-20 05:59:56
Sunk Costs and Strategies