Growth #330 – This week: Lines, Vision, Birthday

GREG'S BUSINESS GROWTH NEWSLETTER #330
————————————————————
Quick notes to help you grow your business in less time with less effort. . . sometime next week.
In this issue:
– Techniques for FIT
– Being Human
– Random Stuff
Techniques for FIT
——-
When someone is worse off we stay in the game longer. Research says people with at least one person behind them in line are less likely to abandon a long line.
More line research: Users stayed in line longer when they were given an expected wait time. Think about this when describing your vision to your people. Use a timeline.
Our neighborhood has crews of people digging holes and putting up poles. Have you ever wondered about the spray-painted icons they use? Read Decoding City Streets.
One of the reasons old items have value is things break. They get torn, burned, broken, lost. Some survivors increase in preciousness just by being rare. Some don't.
Being Human – On the same page
————————————————————
"Never mistake activity for achievement." –John Wooden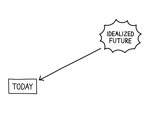 Going from vision to reality is hard. Getting a lot of people on the same page is the first challenge. Moving from strategy to planning to execution comes with challenges at every step. In my books I give a lot of time to keeping the vision simple and checking understanding every day. The best way to find the distance between your vision and your people's understanding is constant conversation.
For example, I am talking to a company creating a product offering for their customers. Actually, inside their customer's businesses they already sell multiple products to various buyers. These products can work better together based on the customer's needs. To help this effort they are hiring a crack team of sales people to talk to all the buyers, design a custom solution, and improve the customer's business. This lets them charge a premium for the services.
Talking to potential customers, this idea is a winning one. At the executive level customers can imagine the process improvements, elimination of redundancies, real-time insights, and bottom line improvements. They say, sounds great, I didn't know this was possible.
Sounds like a winner, right? The first challenge I bumped into is inside the seller's own company. Each product line is its own world. The right hand rarely pays attention to the left hand and it works for the organization as a whole. Breaking through these silos will be a challenge. An even bigger, more immediate challenge, however, is happening at the management level. The executives are talking high level conceptual ideas and the managers are translating these ideas into day to day decisions that are out of step with the original vision.
How do I know this? I am talking to both parties and as an outsider it's glaring. I ask the executives in charge how they imagine the sales conversation going, then I ask the managers how they imagine the sales conversation going, then I ask the salespeople how the conversations are going, then I ask the customers how they'd like the conversations to go. It's a simple process and it reveals gaps at each level. The conversations are not going as expected and working back from the customer puts the disconnect at the feet of the managers. When I bring this up with one of the managers they say, interesting but we have to hit quota and my approach is the best way to hit our number. (by the way, it's not)
The solution for the executive team to make more progress, faster, is straightforward. Spend more time talking. Work through scenarios. Talk to more customers. Deal with internal objections.
Easy to say but everyone is busy and getting busier. Hard to do.
Good stuff.
Random stuff
————————————————————
"Happy Birthday, baby." ​
Today marks the birth of our first baby. I remember her arrival like it was 30 years ago. In that time a lot of lore has been built around that day. There is even a song, "April 29, 1992 (Miami)" by Sublime. It doesn't mention her birth directly, but he does sing "I saw her when she came out. . ." and I wasn't the only one.
I was the first of my childhood friends to have a child. At the time we lived in my hometown and our baby was set to be born in a newly revamped hospital. They had us go through childbirth classes and were very proud of the new rooms allowing labor and birth to happen in the same room. Very fancy.
It was a long labor and at some point in the late afternoon three of my knuckleheaded friends make the trip downtown to check on us. The nurse points them down to my lovely bride's room. The door is open and a curtain is pulled so they walk in.
The reason the door is open and the curtain is pulled across the door area is because there are doctors and nurses shuffling in and out becuase my daughter is making her first appearance. As the pull the curtain open, my bride is screaming, people are concentrating on getting the baby out, and my friends turn and run.
As Sublime said, "I saw her when she came out" and my friends did too. To their credit they stuck around and were among the first people she met.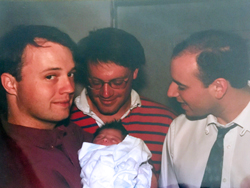 (Fun fact, the one holding her had baby nieces and nephews, the other two had zero experience with babies and were scared to hold something so delicate! That changed.)
I love that story. Let's raise a glass to my favorite first child! Cheers!
————————————————————
If you need to set up a time to visit, follow this link:
https://calendly.com/chamberspivot/
https://www.chamberspivot.com/wp-content/uploads/2022/03/CPI_logo_nowheel_transp_blk_sales_consultant_omaha.png
0
0
Greg Chambers
https://www.chamberspivot.com/wp-content/uploads/2022/03/CPI_logo_nowheel_transp_blk_sales_consultant_omaha.png
Greg Chambers
2022-04-30 08:31:00
2022-06-30 14:07:13
Growth #330 – This week: Lines, Vision, Birthday