Tactics for Managing Marketing and Sales Roles
We need to cover what to do with your sales and marketing staff. They are the experts in developing new business and naturally resistant to any encroachment into their turf. The day you walk in and announce that everyone sells, their eyes will roll. It's natural. They are the professionals, no one can do what they do. In this section, we're going to discuss how to smooth the transition from an organization with siloed sales staff to a company where everyone looks for opportunities. To start, we define marketing qualified leads (MQL) and sales qualified leads (SQL).
Leads are individuals or organizations that are in the market for, or have expressed an interest in your goods and services. We break leads down into two types, the MQL and SQL. The easiest way to understand the difference is using Figure 6.3.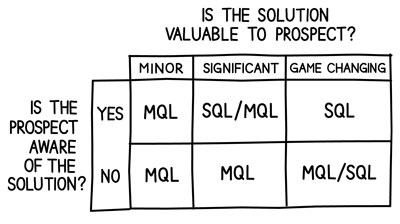 Read more
https://www.chamberspivot.com/wp-content/uploads/2017/03/CPI_logo_confo_email.jpg
0
0
Greg Chambers
https://www.chamberspivot.com/wp-content/uploads/2017/03/CPI_logo_confo_email.jpg
Greg Chambers
2018-11-09 06:37:07
2018-11-09 06:37:07
Tactics for Managing Marketing and Sales Roles